The Beginning of the End.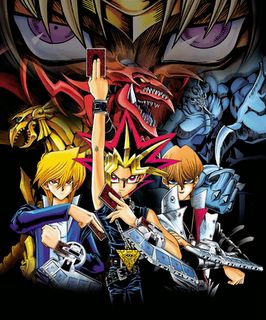 Joey Wheeler, Yugi Motou and Seto Kaiba.
Well I thought I would talk a little bit about one of my favorite animes, Yu Gi Oh. I watch the KidsWB version of the show(Yes I am well aware that it is the butchered form of the Yu Gi Oh anime, but then again I am not a purist I do prefer dubbed anime occasionally). Anyway as KidsWB has started the final chapter of the Yu Gi Oh saga I thought I would mention how sad I will be when it goes. I love Yu Gi Oh always have and I will especially miss characters like Kaiba and Yami Bakura. I guess I am feeling a bit nostalgic right now, anyway will even though the series has not ended yet in America, so far it's been a great ride and I have enjoyed the adventures of Yugi Motou and his friends. I look forward to the ending of a great series.